The Parque de la Memoria-Monument to the Victims of State Terrorism is located on the Costanera Norte in Buenos Aires, a few meters from Ciudad Universitaria.
It was created in 1998 from the enactment of Law 46 of the Legislature of the Autonomous City of Buenos Aires and thanks to the joint work of Human Rights organizations. Its main objective is to bring history closer to young people and future generations and to raise awareness in all those who visit the place about the events that occurred during the last civic-military dictatorship. It is a cry of NEVER AGAIN.
The most important part of the park is the Monument to the Victims of State Terrorism, designed as if it were an open wound. On a raised area, with nothing around it and with the names of the victims engraved, there are four extensive walls with thirty thousand plates of Patagonian porphyry. The design respects the environment, integrates with the natural landscape and is in constant transformation since every year, as the records are updated, data is added.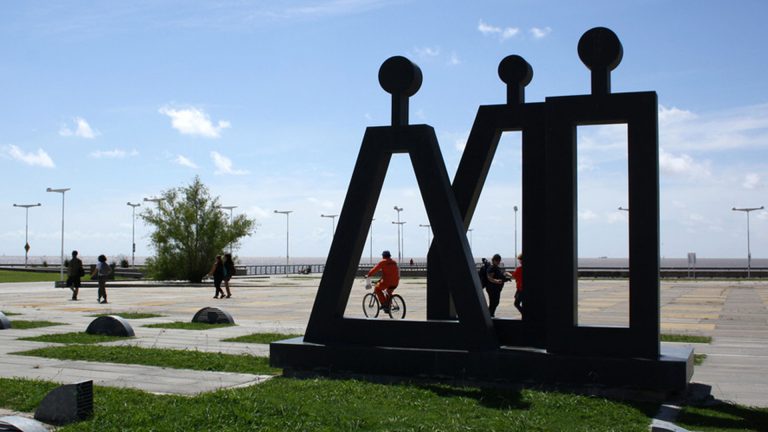 Another striking work is the sculpture of the boy located in the middle of the river, which recalls the life-size figure of Pablo Míguez, kidnapped and disappeared at age 14, in 1977.
It is a public space of fourteen hectares of extension composed of wide green sectors next to the river where there are different monuments and sculptures that commemorate the victims, the Public Consultation Database and a Public Art Program. There is also the Sala PAyS, which means "Present, Now and Forever" and is used to hold art exhibitions, workshops and artistic and cultural activities. The Center for Documentation and Digital Archives and the offices of Human Rights organizations also work there.
The park invites you to visit its monuments and invites you to pay tribute and reflection in a natural environment overlooking the river.